Pacific Chiropractic & Natural Health is made up of a team of professionals dedicated to providing the best quality healthcare in a responsive and caring environment. Our chiropractors are all Board certified with years of experience in the profession. They work in concert with nurses and office staff who try to understand your health issues quickly and apply the right treatment to get you back to your optimal health.
Adam Yoser, DC/Chiropractic Sportsmedicine
Dr. Yoser is a 1989 summa cum laude graduate of the Los Angeles College of Chiropractic, specializing in sportsmedicine. He is a member of the Board of Directors and sportsmedicine instructor at the Shiatsu Massage School of California.

Dr. Yoser has a wide experience treating athletes from various sports while participating as a staff doctor at Women's Pro Beach Volleyball, American Jiu-Jitsu Association International Tournament, National In-Line Skating Series, Los Angeles Marathon, I.O.G.K.F. California Karate State Championship and World Oceanman Series. Dr. Yoser currently treats many yoga teachers throughout Los Angeles and is a chiropractic consultant to Maha Yoga studio.

As the Medical Director of the U.S. Open of Surfing and Budweiser Surf Tour, Dr. Yoser coordinated a multi-disciplinary staff of D.C.'s, M.D.'s, P.T.'s, massage therapists and acupuncturists.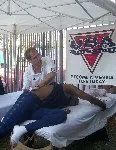 Dr. Yoser has been a contributing editor to "Surfing Magazine" and "Swim Magazine." He as also authored a continuing education series for the dental profession "Prevention and Management of
Neck and Back Pain." He has lectured at UCLA School of Dentistry, UCLA School of Nurse Practitioners and various dental societies.

Dr. Adam Yoser, D.C., serves as a member of the medical staff for USA Track & Field.


Christina Zhang, L. Ac., Acupuncture
Dr. BaoHui (Christina) Zhang graduated from the number one acupuncture school in China, Beijing University of Chinese Medicine and Pharmacology. Dr. Zhang studied in both China and the United States and is now on medical staff at the UCLA School of Medicine and is a clinical supervisor treating patients and teaching future acupuncturists at the Yo San University of Traditional Chinese Medicine. Having been trained in both Eastern and Western Medicine, Dr. Zhang is dedicated to providing patients with a comprehensive approach. The signature of her practice is that she explains your condition and how various treatments work. This empowers the patient and increases treatment success. Dr. Zhang has 10 years of clinical and hospital experience as an M.D. in China and has 8 years of experience as a licensed acupuncturist in the United States. With Dr. Zhang you know you are in good hands.
Jill Heinrich, Certified Massage Therapist
A graduate of the Shiatsu Massage School of CA, where she studied under the tutelage of Dr. Yoser, Jill is well versed in Shiatsu, Deep Tissue, and Sports Massage Modalities. A Reiki Master, as well, Jill often includes energy work in her treatments, and can be booked for emotional release bodywork that incorporates a variety of massage techniques, breathwork, and reiki healing.